Mid summer tobacco insect update
Caterpillars Large and Small
So far this year, tobacco budworm numbers of in our research plots at both Kinston and Rocky Mount have remained below threshold (less than 10% of plants infested).  However, this week we've noticed lots of egg laying activity at Kinston so more are on their way.   While this is good news for those of us doing research on budworm control, scouting activity should focus on determing if economically signifciant populations of this pest are present.
Two weeks ago, we found our first hornworms at our plots at Kinston, and last week, we found them at our Rocky Mount plots.  We have found both species of hornworms, tobacco and tomato, in our plots at Kinston, but only tobacco hornworms, so far, at Rocky Mount.  However, we found only a handful of hornworms in each 3 acre research plot, so we are still very much below the 10% threshold level, as is typical at this time of year.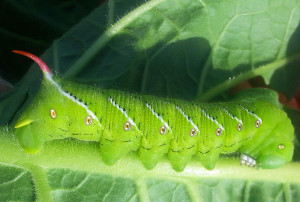 Natural Enemies
While keeping tabs on the pest insects present in our experiments, we did notice some beneficial insects at work as well.
Natural enemies of caterpillar and aphid pests are common in southeastern tobacco fields, and they can often reduce or maintain pest populations below threshold on their own.  Therefore, it's important to continue to monitor insect pests before making management decisions.
Written by Aurora Toennisson, Research Association
Specialty Crops Laboratory, Department of Entomology
Was the information on this page helpful?
Care to tell us why? Send Explanation
This page can also be accessed from:
go.ncsu.edu/readext?224347